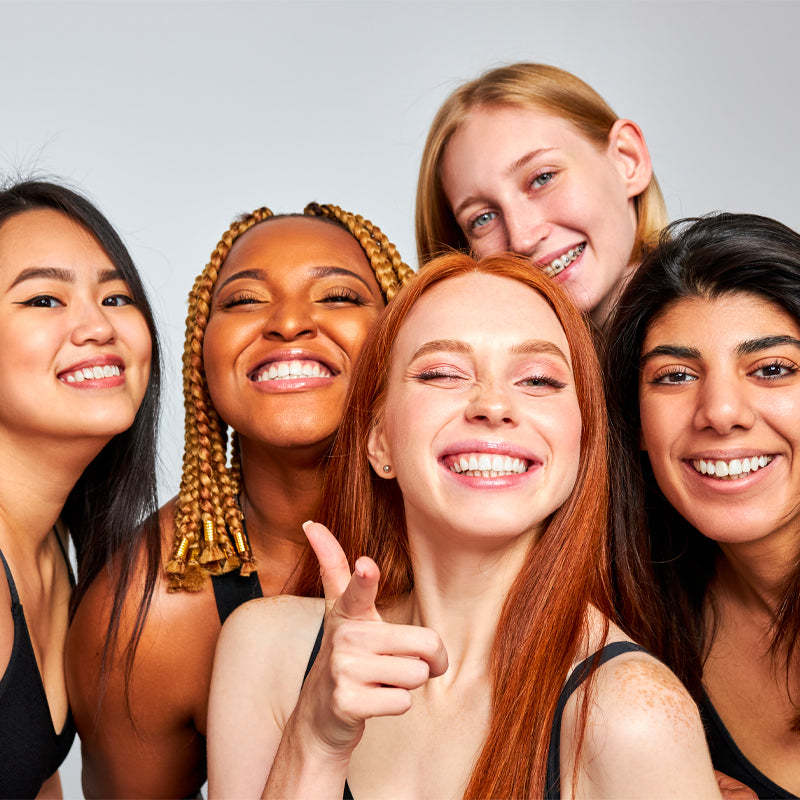 The teenage years can be formative for your skin. As teens go through puberty, new hormones in their bodies will help to determine their skin type, whether it's oily, dry, or a combination of both. This may also be the time when they develop sensitivity. These hormonal changes can also lead to common skin problems such as acne, so this is an important time to lock in the skincare routine that will help you be your most confident, glowing, and blemish-free self!
What Causes Acne:
Acne is caused by dead skin, bacteria, and debris clogging the skin's pores and causing a micro infection. The body responds by sending puss to the area, which causes a pimple. Rosacea is a general irritation of the entire area around the pores and appears as a painful, reddened area. Acne can happen to people with oily skin because excess sebum traps dirt and bacteria, but it can also happen to those with dry skin who have more dead cells on the surface to clog pores. Those with combination skin can suffer from both issues at once, particularly around the T-zone of the nose and forehead.
What to do about it:
Almost everyone experiences acne breakouts as a teen. However, they may be more severe for some than for others. No matter if you have chronic acne or the occasional pimple, there are a few things our experts recommend you do to stay ahead of the curve. This routine covers all the bases, and since our products are natural, organic, and don't contain harsh artificial chemicals, you know they won't cause any additional irritation.
Cleanse:
One of the best things you can do to combat the conditions that cause acne is to remove the excess oil and any debris, dead skin cells, and bacteria that might be clinging to your skin. You should cleanse morning and night. For those with oilier skin, our Revitalizing Cleansing Gel is a gentle, non-foaming cleanser that contains Orange Peel Extract to brighten and our proprietary Blackberry Antioxidant Complex. It removes excess oil and bacteria without stripping or over drying your skin.
For those with dry skin, our Gentle Cleansing Lotion offers the same benefits, but with a little more moisture from Jojoba and Shea Butter to keep skin hydrated and feeling fresh and soothed.
Tone:
Toning gently transitions skin from the cleansing phase to the moisturizing phase. It can remove any last debris while minimizing pores and preparing skin for the next step. Think about how a bone-dry sponge doesn't soak up liquid as one that's already damp. Toner does the same for your skin, allowing it to better absorb the nutrients in the moisturizer.
We recommend our Clarifying Toner for this step. In addition to prepping your skin, it soothes and calms while minimizing redness.
Hydrate:
Although you want to remove the oil from your face that contains bacteria and other infection-causing debris, you don't want your skin to become too dry. That's why it's important to replace that moisture with natural hydration. We recommend our Oil-Free Hydrator for lighter hydration during the day, and our Renewal Facial Serum for a little deeper hydration at night when your skin needs it most. Both of these moisturizers pack a host of vitamins and other nutrients to support skin's natural repair cycle.
Exfoliate:
In addition to your daily routine, it is recommended to exfoliate once a week or so (maybe less if you have sensitive skin). This process gently scrubs away dead skin cells revealing a fresh healthy surface that not only looks more radiant, but also absorbs active ingredients more easily. Our Dual Action Scrub utilizes both ground walnut shell for a natural physical exfoliation and papaya enzymes to gently polish away dead dermal layers for a glowing look and soft feel.
Protect:
Of course, you'll always want to follow up your routine with sunscreen, especially after exfoliating, to ensure maximum protection.
Taking Control
Taking control of your skin doesn't have to be an ordeal, and if you start now, you may find a skincare routine that will keep you glowing and blemish-free for years to come. To learn more about how our organic, locally sourced skincare products can help, get in touch with one of our teen skincare experts.
---