What Does a Conditioner Do?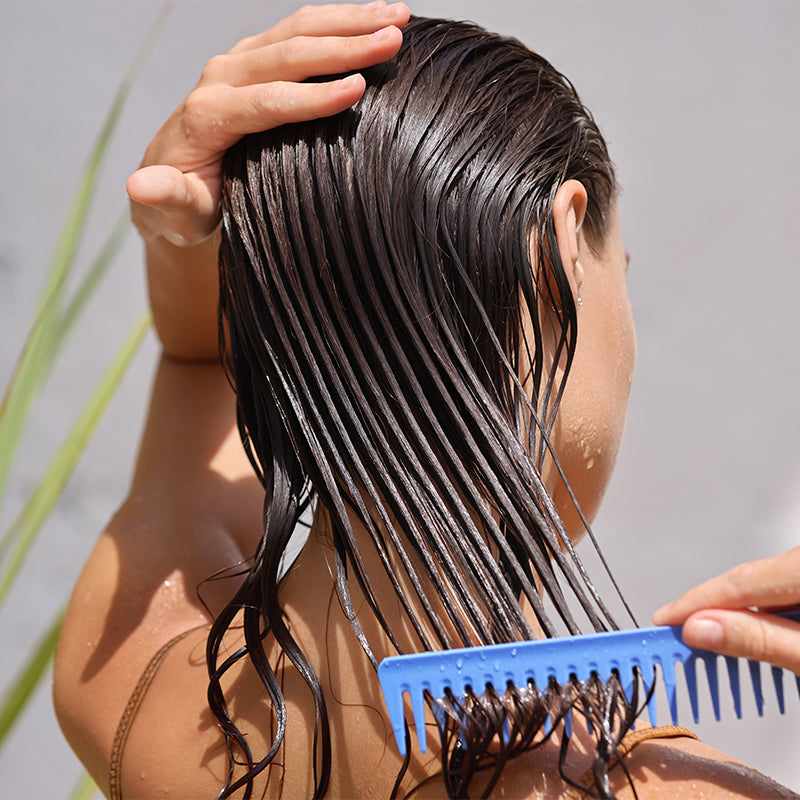 You may use conditioner every day after you shampoo, but have you ever wondered what it does and how? To understand how conditioners work, we need to understand the structure of an individual strand of hair. Each strand is made up of a central core called the cortex, which is surrounded by many thin layers of keratin which wrap around the cortex like microscopic scales. This outer coating is called the cuticle. When you wash your hair with shampoo, the scale-like structure of the cuticle opens so dirt and oil molecules can be lifted away. However, this process can also strip away moisture and leave your hair weak and prone to breaking, as well as sacrificing manageability because each strand is essentially "rough". This is even more true if the cuticle has already been damaged by harsh treatments or bleaching.
This is where the conditioner comes in. Conditioners replenish essential nutrients and provide hydration to "glue" the cuticle back together after washing. The result is hair that is shinier, more manageable, and less prone to breaking. Conditioners also contain surfactants that provide additional cleansing to hair. Of course, conditioners can also provide other specialized benefits as well. Here are some of our recommendations:
Strengthening Conditioner:
If you suffer from breakage-prone hair and split ends, either from naturally fine hair or from treatments, our Strengthening Conditioner has you covered! Nourishing Linseed Oil and Argan Oil moisturize the scalp without clogging follicles, while Cocoa and Shea Butters provide deep hydration to repair damaged cuticles. Our proprietary Blackberry Antioxidant Complex made with local, organic blackberries fortifies hair against environmental stressors like blow drying, wind, and sun. The result is stronger, more manageable hair.
For best results, use with our Strengthening Shampoo.
Volumizing Conditioner:
The perfect treatment for anyone with flat or lifeless hair, our Volumizing Conditioner adds weightless volume and softness. A combination of light Almond Oil, Coconut Oil, and Maca Root Extract helps add shine and lock in moisture and promote thicker strands for a fuller, more voluminous look.
For best results, use with our Volumizing Shampoo.
Moisturizing Conditioner:
If your hair feels dry and "crunchy," either because you suffer from dry scalp or from external factors like chlorine or just dry weather, our Moisturizing Conditioner provides the burst of hydration you need. Our proprietary Avocado Moisturizing Complex made from local, organic Avocados provides exceptionally rich moisture to revitalize dry hair. Vitamin-rich organic ingredients like Linseed Oil, Argan Oil, and Kiwifruit Extract help balance and make hair softer, more manageable, and less frizzy.
For best results, use with our Moisturizing Shampoo.
Color-Protecting Conditioner:
If you color your hair, it's even more important to protect the integrity of the cuticle to extend the time between treatments. With high levels of β -carotene from our proprietary Apricot Color-Protecting Complex, this Color Protecting Conditioner helps support lasting color and restore damaged hair. Green tea contains vitamin B and is high in antioxidants to give your hair protection, hydration and nourishment for a smoother and silkier finished look.
For best results, use with our Color Protecting Shampoo.
We've Got You Covered
Whatever your hair type or concern, we have a conditioner to help you address it. You can also rest assured that we take pride in the fact that all our conditioners are vegan, locally sourced here in California, and at least 70% organic. Best of all, they provide incredible results!
Please contact one of our beauty experts to learn more.
---