Blackberry Bliss for Your Daily Dose of Hydration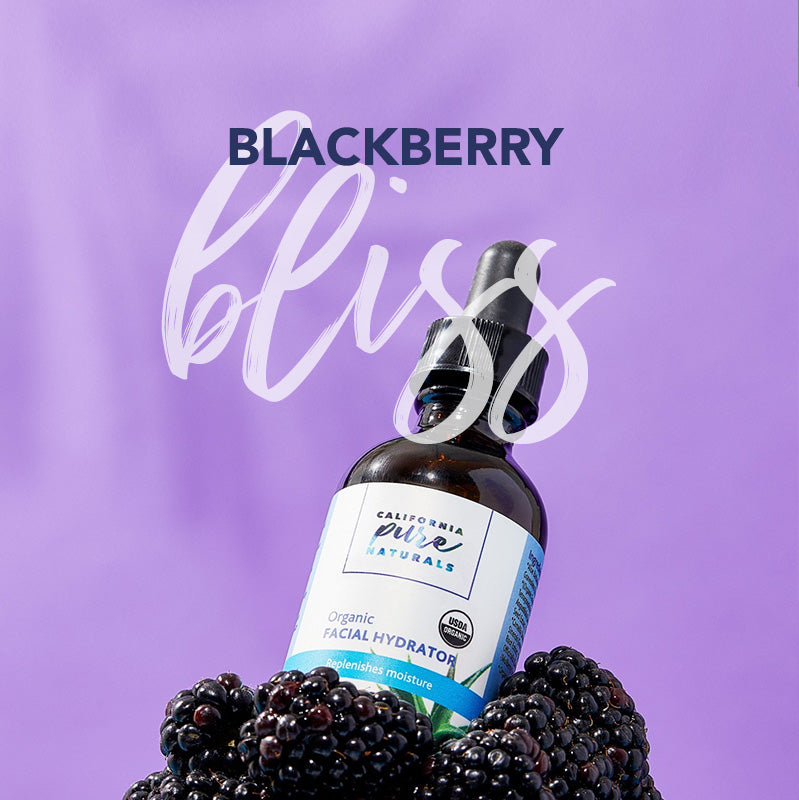 Blissful skin starts with our Organic Facial Hydrator. Blackberry extracts that are rich in vitamins and anti-aging antioxidants offer skin nourishment. Plant-based ingredients support healthy skin, including pomegranate, rose geranium, aloe vera, and hickory bark. The natural way to skin hydration.
Daily Dose of Hydration
A few drops a day of Organic Facial Hydrator is all you need to achieve a soft, hydrated complexion. This nutrient-rich formula helps balance moisture and hydration levels, improving the appearance of skin texture, tone, and clarity. It is hydrating enough to wear alone, yet light enough to quickly absorb into your skin, allowing you to layer it under any moisturizer. Skin appears softer, plumper, and smoother. California Pure Naturals is proud to formulate this hydrator with 95% organic ingredients for a dewy California glow.
Organic Plant-Based Ingredients
Blackberry Bliss
Blackberries are nourishing and replenishing. They are packed with antioxidants to help protect skin from free radicals, which can cause damage to skin cells and accelerate the aging process. Vitamins A and C, which are found in blackberries, are essential for healthy skin as they help promote cell turnover and boost collagen production. Additional blackberry skin benefits are the anti-inflammatory properties that can help soothe irritated skin.
Pomegranate Perfection
Pomegranates are rich in antioxidants and vitamins, helping to hydrate, plump, and strengthen skin for a more radiant appearance. They are known to have anti-inflammatory and antibacterial properties, which can help to reduce the appearance of blemishes and wrinkles, for a healthier-looking appearance.
Rose Geranium Glow
Rose geranium is rich in natural oils and is known to have a balancing effect on the skin. This fragrant flower is often used in aromatherapy to reduce stress and anxiety. In skincare products it provides hydration for soft, smooth skin.
Hickory Bark Haven
Hickory bark is often used in traditional medicine. It's known to have antimicrobial properties, which can help promote healing. It contains tannins, natural compounds that can help to tighten, firm, and smooth the appearance of the complexion.
Aloe Vera Oasis
Aloe vera is known to be refreshing, hydrating, and healing. It contains a high concentration of water, making it ultra-moisturizing to help improve the skin's moisture barrier. Rich in vitamins and minerals, aloe vera can help soothe irritations and nourish the skin.
Start your day in bliss as you help replenish your skin with a daily dose of hydration.
---