Protect Your Baby's Skin This Summer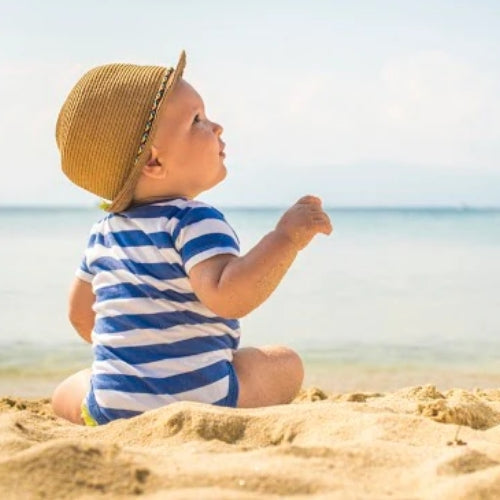 After a cold winter, there's nothing like spending the day outside soaking up the sun. But even though we welcome summer with open arms, it's important to take precautions to avoid sun damage and heat illnesses. As a parent, you also need to protect your baby's skin. Here are some helpful tips to keep baby safe, cool and comfortable as you enjoy fun outdoor activities.
Be Watchful
Remember, your baby won't be able to let you know when she's had too much sun. That's why it's so important to be watchful and look for signs of redness and excessive heat. Even a minor sunburn can be very harmful to babies, so if you notice baby's skin looking red, take him or her inside right away to prevent damage.
Stay in the Shade
Try to keep your baby's direct exposure to the sun at a minimum. This means playing in the shade and avoiding high-sun times of the day—mid-morning to mid-afternoon when the sun is at its strongest. Tents and umbrellas that filter UV rays are available to help protect from sun damage, so invest in one of these for outdoor fun, and make sure to always dress a baby with a hat, sunglasses, and full-length clothing.
Always Use Baby Sunscreen
Like adults, babies can get sunburned too! The most important step in keeping a baby's skin safe during the summer is to always apply baby sunscreen. Don't venture outdoors without it. About 20 minutes before you head outside, apply a baby sunscreen with at least 30 SPF to provide the best protection. Our Natural Baby Sunscreen SPF 30 is rich in zinc-oxide to prevent UVA/UVB protection without harsh chemicals, and it contains cranberry and rosehip oils to provide a healthy dose of antioxidants and neutralize free-radicals. Reapply your baby's sunscreen every two hours when outside. If your baby is playing in a pool, sprinkler, or another water source, or if she is sweating, sunscreen will wash off. Be sure to reapply baby sunscreen every 30 minutes in these circumstances.
Natural Baby Products From California Pure Naturals
However you spend your summer days with baby, be sure to keep them protected from the sun. California Pure Naturals is dedicated to providing exceptional skincare products made from nature's best ingredients, and we focus on locally-grown agriculture to infuse our products with healthy fruits and botanicals. You can be sure that our baby sunscreen and other baby formulations will nourish your baby's delicate skin and deliver essential nutrients to keep it soft and smooth. Browse our natural baby products today, or contact us with any questions. We look forward to hearing from you!
---